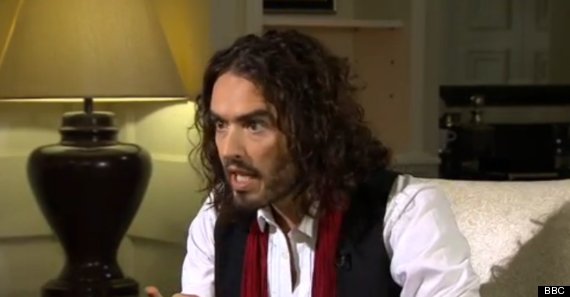 (Image from Huffington Post)
Russell Brand sitting opposite Jeremy Paxman, talking passionately about egalitarian states and distribution of wealth, was not something I expected to see, much less find myself nodding along to, agreeing firmly with Brand's claim that his choice not to vote is caused by indifference rather than apathy.
The political climate has shifted since the last election here in the UK, and we have a generation of young people who feel thoroughly let down by their government. We have a generation, floundering in student debt, who are applying for jobs with a mind-boggling amount of candidates before being rejected due to a 'lack of experience' or being 'over-qualified.'
For a lot of people, there's not much to recommend any of the main parties. Before the last election, a group of my friends at university campaigned hard for the Liberal Democrats, posting flyers and leaflets in the weeks running up to the election. The Lib Dems have traditionally had a strong student support base, but now those students feel utterly let down by the Lib Dems' choice to get into bed with the Conservatives, and the back down on the promise not to hike up tuition fees. I voted Lib Dem in the last election. I won't be doing so next time.
Voting Conservative is a non-option for me. As my mum put it last time, "You can vote for who you want, but if you vote Conservative, you can't live under my roof anymore." I can't get behind a party apparently determined to push the poorest in our country further into poverty, with cuts to the benefits and no response to the ever increasing energy prices.
So what about Labour? For a lot of people, Labour's legacy of making us America's sidekick and getting involved with the 'War on Terror' is a massive negative. As Brand says, we want none of these people in charge. So what then?
I think the next General Election is going to be an interesting one. I think with the dissatisfaction with the main parties, we're going to see an increase in support for smaller parties, and are very likely to have another coalition government, with votes scattered even wider than last time.
But I do think we're also going to see a manifestation of Russell's revolution. Brand has called for people to express their dissatisfaction with the current political system by not voting at all. Will we see a lower turn-out of voters?
Personally, I think we will, particularly in younger age brackets, who are more likely to be Brand fans. For myself, I am undecided. Undeniably, we need change. But is choosing not to use your voice the way to get it?
Georgina is a blogger with a passion for polka dots, tea and the Whedonverse. She blogs at www.caramellattekiss.com or can be found at @caramelattekiss